A Holiday Newsletter
Just before Christmas we sent out a Holiday Newsletter to our fans. In case you're not subscribed here it is.
Looking back on 2021 my first thought was that it was a somewhat uneventful year, being partly still under COVID restrictions, but there was definitely a return to production this year. We know there was a return to production because the Lumberjack feature requests started coming in.
Long time Lumberjack fans Endemol Shine Nordics (formerly Metronome Film & Television and Shine Nordics) have been using Lumberjack noteLogger for live logging on most of their current large scale productions, which naturally leads to feature requests! Over recent years Endemol have been responsible for a supervisor to be watching all the live logging being done across four or five logging stations. We also modified noteLogger so you could run multiple instances on the same Mac at the same time, again for those supervisors!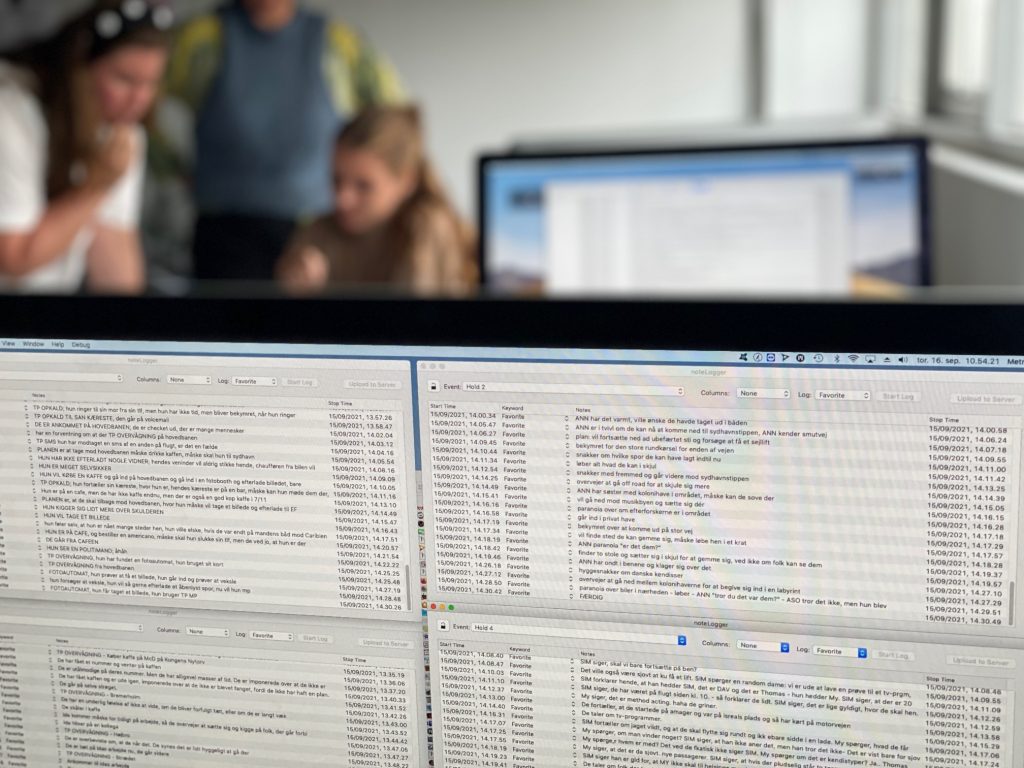 There's a tip, in case you'd missed it. Multiple people can log an Event and the Lumberyard app will merge all logged Keyword Ranges into one overall result. (If you want to keep the logging distinct, set up a different Lumberjack Event)
In September Endemol asked for further interface refinements, including a single column view and I guess they liked it.
"Your wizardly skills are highly appreciated, Greg!

We've already implemented the update and we love it."
While NAB and IBC were off the agenda this year, we were happy to participate in the FCP Global Summit.which saw the release of Final Cut Pro 10.6. As we were to discover shortly after that there were sporadic reports that some XML files would not import to FCP 10.6.  
As the reports of failure were coming mostly out of Europe,on the usual FCP social media forums, we were also getting reports of XML import failures with XML from Lumberyard and Builder (as well as associated apps in our other company, Intelligent Assistance). The only thing they had in common was that they were in Europe. My intuition suggested it was in some way related to Region settings. Why that should affect XML was confusing,, but Greg's experimenting established that indeed, Region settings were affecting XML import.
We were able to publish a workaround within 24 hours and passed on to Apple specific examples and settings that failed XML import. In software troubleshooting, having repeatable cases of the problem is gold. You really can't troubleshooting until there are3 reproducible cases. With that information they were able to identify and remedy the issue and get a fix out asap. 
If I'm permitted a humble brag, it was the unique combination of my intuition and Greg's deep technical skills that saved the industry (in Europe and South Africa) weeks of frustration. All part of the Lumberjack service. 
One of the things that we have been most grateful for in 2020 and 2021 was the decision to move out of a city apartment into a semi-rural setting that has space around and a slightly elevated outlook. As well as alleviating cabin fever, it gives us a big outlook for creative thinking.
Back in Australia I shared an office with a psychologist and among our long, informal discussions, he suggested that you could not have big ideas in small spaces. It made sense, so while apartment dwellers we'd head for an elevated park every Friday for out weekly planning to take advantage of those spaces to inspire creative thinking. If you're not doing your strategic planning in a big open space, try it. You'll be surprised how effective it will be.
Another important lesson from having a yard is the value of regular, continuous relatively small amounts of effort, in achieving a goal. I have two examples from my own life. The first is learning to sing. At a very informal karaoke event in 2014 I performed very badly, which does not sit well with my personality. I sought out a singing teacher and have put in 2-3 hours a week since. 
I was truly bad at singing. It wasn't until many years later that Greg confided that he heard no improvement at all for the first three months. But little by little, almost imperceptibly over time, improvement happened. I'm told I can now "carry a tune." I also learnt that if you're not prepared to "suck" at something, you can never do anything new! 
Similar, regular small efforts have transformed our yard into a pleasant place to relax and a great view from our home offices. Four years, and over 60 tone of materials moved, the yard has been completely transformed. Small regular effort.
In app news, all our apps, across both companies, have been updated to run on macOS Monterey and Apple Silicon. For now, some of the apps fun in Rosetta 2, but we are already underway on complete rewrites for the iOS app and Lumberyard. Lumberyard will be available in a FCP Workflow Extension after the rewrite.
Our sister company, Intelligent Assistance just published it's first FCP Workflow Extension, as both companies share the coding genius that is Greg Clarke. That new Workflow Extension is amulti format document reader with a few extra refinements, called Reading is Fundamental!
It turns out that my 'rather ordinary' 2021 was eventful after all. 
May this holiday season bring you and those you love, every good thing.
Philip, Greg and Cirina.