About Us
Our goal is to make the entire creative process from start to finish as automatic or simple as possible. This includes the organizing and pre-editing  all the way to delivery.
We want you to get the very best from Lumberjack because we are here to enhance your creative life.
If you have workflow questions about any of the LumberjackfFeatures (for example, Builder), or just want to share your success stories, drop us an email  [email protected] and we'll  follow up and answer your questions. We might also feature your story on our website.
Lumberjack System was created by the founders of Intelligent Assistance Software: Philip Hodgetts and Dr Gregory Clarke
Intelligent Assistance Software, Inc. is an innovator in technology and systems for producers and editors dedicated to building tools to make working with metadata in digital media easier.
With apps such as SendToX, XtoCC, Sync-N-Link X, Producer's Best Friend, Sequence Clip Reporter and Change List X/CC, the award-winning company has been on the forefront of editing and workflow management software since 2007. For more information, please visit IntelligentAssistance.com
Lumberjack System was created out of the production experience gained by the co-founders during the production of 2012's Solar Odyssey reality television series. While the journey didn't go as planned, Greg and Philip continued to use Lumberjack on their productions – and those of their friend Cirina Catania – and refine Lumberjack System ahead of the May 2014 launch.
Cirina was so impressed she joined the team!
When it became obvious that we needed an offline, iOS logger, we turned to another of our friends, Robert Desauger, to take on that role.
Since then, the Lumberjack team hgave continued to add new features and new apps growing into the most comprehensive keywording and pre-editing system for Final Cut Pro X and Premiere Pro.
The Lumberjack Story
Like all good software stories, this one starts with a personal need. Summer 2012 we were planning to travel the Great Loop waterway on a solar powered boat, and make a reality TV show about it.
That wasn't quite complicated enough, I wanted to use the then-new Final Cut Pro X, because "no-one could use it professionally" according to common wisdom, and I wanted to prove a point.
And I wanted to edit as we went.
Clearly the problem was logging. During the day we'd shoot on boat stories and off boat stories. If the evening was for logging, building the show meant no sleep!​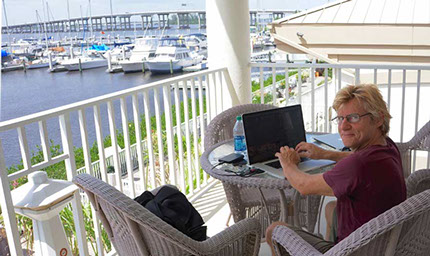 I fairly quickly realized that creating keyword ranges as we shot, would be the way to go. Unfortunately no-one had created any software for the purpose, so we had to create our own. The result became Lumberjack.
Our summer did not go according to plan, but the idea of Lumberjack that was generated continued to be developed.
Since then, we refined Lumberjack into the comprehensive Suite of tools it is today, and we continue to add new features at no additional cost to our members.